Discover all of our partner campsites
See all our Corsica Campsites
by the seaside
Our Campsites in
Corsica by the Beach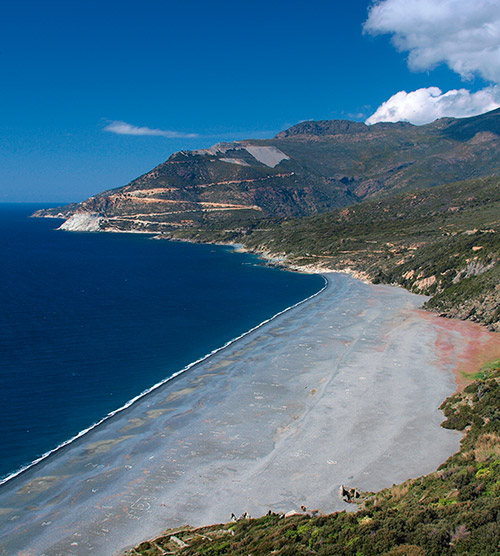 Good reasons to go camping in Corsica Bord de Mer.
Camping in Corsica Bord de Mer is an excellent way to enjoy the outdoors and organize your holidays with family or friends. It is a wonderful activity for people looking for an escape for a change of scenery and an unforgettable vacation.
At Camping Corsica, several choices of seaside campsite rentals are there for your stay. Indeed, in high season, in low season, feet in the water or not, all campsites in Corsica are worthy of the most beautiful sandy beaches and are better known than the south of France.
For your next vacation, choose a mobile home rental or a camping rental with our camping pitches with direct access to the beach, for example.
There are many reasons to recharge your batteries with the whole family, air conditioning in the bungalow, swimming, covered terrace, covered and heated swimming pool for the more cautious, walks in the open air and by the beach on the sand.
Let's not forget, for the more athletic, bike rides thanks to cycle paths, canoeing, surfing, water slides for children and many other aquatic or non-aquatic activities !
More information on Campsites by the Sea
Find the answer to your questions
Apart from your personal belongings, your family etc… You do not need a lot of things to spend your holidays in peace.
Indeed, it does not matter that your budget is low, that your destinations are not fixed, the most important thing is on site !
Remember to take your clothes, food and everyday things.
Depending on your choice of accommodation, however, you will need to make sure you have blankets, tents, etc. if you have only reserved a camping pitch, for example.
Don't forget your sports gear if you're thinking of going on a hike with the large number of hectares or even sports activities such as pétanque, or other holiday games around your seaside campsite.
Stay in your campsite with swimming pool, or a few meters from the beach, to spend a successful holiday there.
Welcome to Camping Corsica, rent your caravan, mobile homes, campsites… We offer accommodation ideally located by the sea and in the open air. Indeed, our bungalows and caravans are generally accompanied by a large beach in addition to being comfortable. You will also find playgrounds with table tennis, a slide, all this, near an aquatic area !
Of course, this depends on your choice, because we reserve many nautical activities for you, but not only. Live your dream vacation with visits to castles, nature walks or walks on a beautiful beach. Indeed, you can enjoy an incredible sea view near your campsite around a greenery that reminds you of this feeling of vacation and rest for your greatest comfort.
Be convinced by camping holidays. Indeed, know that you will be able to take full advantage of your camping stay, because even if it is your first time, several animations and activities under the sun or not are also possible. Find swimming pools, outdoor swimming pool or heated swimming pool, and why not a jacuzzi ? A playground for your children before the pizzeria and for the older ones, the bar-restaurant !
Getting to Camping Corse Bord de Mer is not difficult. You can take the car and drive to the campsite. The campsite is located by the sea, near a beach, so it is easy to enjoy the sea and the sun.
On the other hand, if you are not coming from the island, you will have to go by plane or boat. But don't panic, we have partner offers so you can enjoy your trip as it should be.
The Corse Bord de Mer campsite is an excellent destination for your next vacation. It offers many amenities, such as a restaurant, bar, grocery store and supermarket. It also has a swimming pool with slides and jacuzzi in case you want to cool off from the heat of summer days or relax after a day at the beach or visiting nearby cities like Marseille or Aix-en-Provence.
To find a campsite in Corsica and enjoy your best vacation rental around the Mediterranean Sea, be sure to choose the right place at the right time. And do this according to your family atmosphere, your current relationship situation or the expectations of your friends.
If you and your companions want the fine sandy beach to soak your feet in, and a successful holiday rings with water sports, it is obvious that you do not need to pay attention to nearby children's games but rather to the weather.